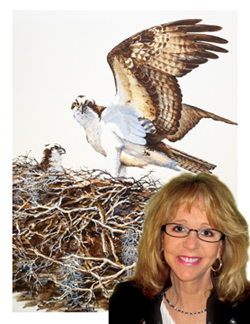 PAINT WITH PASSION
From a pair of swans dancing on a shimmering lake to an
osprey guarding its young one, I've always been inspired by
nature. I envision wildlife and seascapes in either luminous
watercolors or vibrant acrylics.
For 5 years, I participated in the international juried show,
The Florida Wildlife & Western Art Expo in Orlando and
Lakeland, FL. My patrons range from the General Electric
Corporation, the acclaimed pianists Ferrante & Teicher and
to many wonderful patrons, who just love art as much as I do.
Please visit my gallery in Towles Court,1938 Adams Lane,
Suite 206, Sarasota, Florida. www.towlescourt.com
or call 941-350-0747